Rwanda is a landlocked east African country covering a total area of about 26,338 square kilometers and the fourth smallest African country. Its current head of state is President Paul Kagame who has played a big part in infrastructural recovery of the country since the 1994 genocide, so despite the small size, Rwanda has many beautiful and developed cities with interesting scenery that you can enjoy on your trip and they include the following.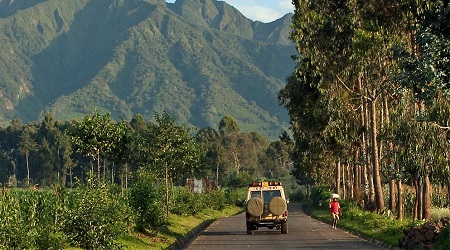 Kigali city
Kigali city, the largest and capital city of Rwanda is located in the center of the country and serves as the major political, economic, transport and cultural center of Rwanda with a total population of approximately 1.2 million people. It covers a total area of about 730 square kilometers with Pascal Nyamulinda as the current Mayor governing and monitoring activities carried out in the city. Kigali city, the cleanest city in Africa was founded in 1907 and declared the capital city in 1962 when Rwanda got independence. It is in Kigali where we find the Kigali international airport, Kigali Genocide Memorial center, the official presidential residence, Kandt house museum of natural history, the Kigali city tower and international hotels like Kigali Serena hotel, hotel des Mille Collines.
Butare  is another interesting city located in Huye district in the southern province of Rwanda where colonialists had their major base hence the colonial capital then. It covers an area of about 581.5 square kilometers with a population of approximately 90,000 people and has a number of features which include the Butare stadium, national university of Rwanda, Murambi genocide memorial site, Butare airport, the large Christian cathedral, national museum of Rwanda, and Groupe Scolaire, the largest secondary school in Rwanda plus many more others so visit Butare, the intellectual capital of Rwanda and enjoy to the fullest.
When one talks of Gisenyi city, the number one thing that comes in your mind is relaxing along lake shores because the city has a number of sandy beaches and resorts, all for you to enjoy. Gisenyi city is located in Rubavu district in the western province along the boarder of Democratic Republic of Congo and covers a total area of 11 square kilometers with a total population of about 86,323 people. At Gisenyi, you will encounter Lake Kivu, a great fresh water lake where you can enjoy swimming, playing along sandy shores and various water sports. The city has Rwanda's only brewery, Bralirwa plus international hotels that provide great and satisfactory facilities like Gorillas Lake Kivu hotel, Stipp hotel and Belvedre hotel. On your trip to Rwanda, just ensure that you do not miss out Gisenyi in your itinerary for it is extremely enjoyable.
Kibuye is the capital city of the western province located in Karongi district along the eastern shores of Lake Kivu with a population of approximately 50,000 people. Kibuye city has a power plant, genocide memorial church, Ndaba falls and a beach resort along Lake Kivu where to enjoy and relax.
Nyanza
Nyanza city is located in Nyanza district in the southern province about 90kilometers from Kigali and homes the ancient king's palace which is the present day Rwesero art Museum. When Rwanda was still under kingship, Nyanza city was the capital of the Rwanda kingdom and still, this town is one of the places that greatly hosted the great massacre in 1994 though the Nyanza memorial site is located in Kigali.
Ruhengeri
Ruhengeri town is a famous tourist destination located in Musanze district in Northern Province of Rwanda. In and around the city, you will find different features which include nice hotels like Gorilla volcanoes hotel and Virunga hotel, Volcanoes national park which is the only gorilla home in Rwanda and twin Lakes Burera and Ruhondo.
All the above cities in Rwanda are for you to enjoy so for more information and inquiries contact us on email info@rwandacarrentalservices.com or directly call our head offices on+256700135510 to speak with the reservations team.