A self drive trip is the best way to explore Rwanda because it provides ultimate freedom and flexibility as you get to travel at your own pace, choose the places you wish to see in line with your interests and itinerary. Self drive trips include camping safaris, city tours, weekend picnics and getaways, conference meetings plus so much more.
Four-wheel drive also known as 4×4 cars are the perfect choice for self drive in Rwanda as they are capable of taking you through the rugged terrain since they are well known as off-road cars that is to say they are designed to be driven on gravel/rocky roads, slippery roads, and winding paths for example in the National parks. Here you get to choose from the different rated 4×4 cars such as the land cruiser Prado, rav-4, land rovers, Toyota Hilux, super custom vans, safari vans and many more depending on the group size of the travelers and your travel requirements/luggage. They are spacious and combine both convenience and comfort while you are on the road. Read more about these cars below;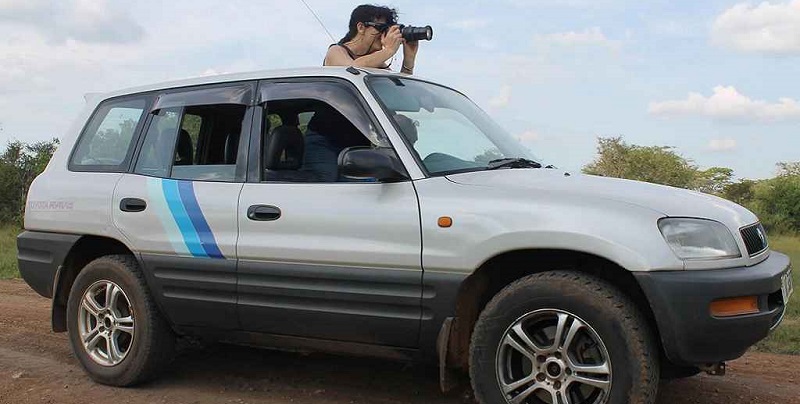 Toyota Rav-4
This is one of the best and most convenient SUVs known as a Recreational Active Vehicle manufactured by the Toyota Company. It operates on full four-wheel drive which makes it very strong, has low fuel consumption which enables you to save on fuel and also has enough cargo space for all the luggage you may need to carry for your trip. All this makes the Toyota Rav-4 the perfect car choice for Rwanda self drive trip also considering that is quite cheap to rent.
The land Cruiser Prado
The land cruiser Prado is a 4×4 car manufactured by the Toyota Company. This is a medium sized four wheel car which accommodates 5 people comfortably and a maximum of 7 people making it suitable for small group trips. The car is well air-conditioned, has a music system provision that is to say an mp3 and C.D player, flash port, F.M transmission radio, and so much more.
Super custom van
The super custom van is among the most ideal cars suitable for small group safaris/tours as it has a slide glass sun-roof and is well equipped with an air-conditioner, an mp3 player plus spacious cargo space. It accommodates up to eight people and has very comfortable adjustable seats with bottle holders giving you a very comfortable road trip experience.
Safari mini van
If you plan to self drive Rwanda as a group This is a mid-sized van perfect for your self drive trips because it is designed purposely for sightseeing tours as it has a sun-roof or pop-up roof. It accommodates up to ten people making it suitable for group trips and family holiday picnics, has very comfortable seats, is well air-conditioned and has adequate cargo space for all the passenger luggage.
All these cars and many more are available for your self drive trips in Rwanda. Rent a car of your choice for your self-drive trip with us today and get the most amazing road trip experience. Simply send us an email at info@rwandacarrentalservices.com or you can call us directly on +256-414699459 or +256-700135510 to talk to the reservations team.