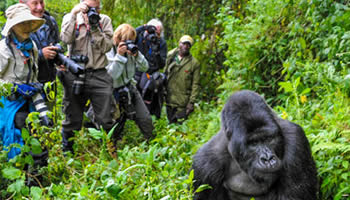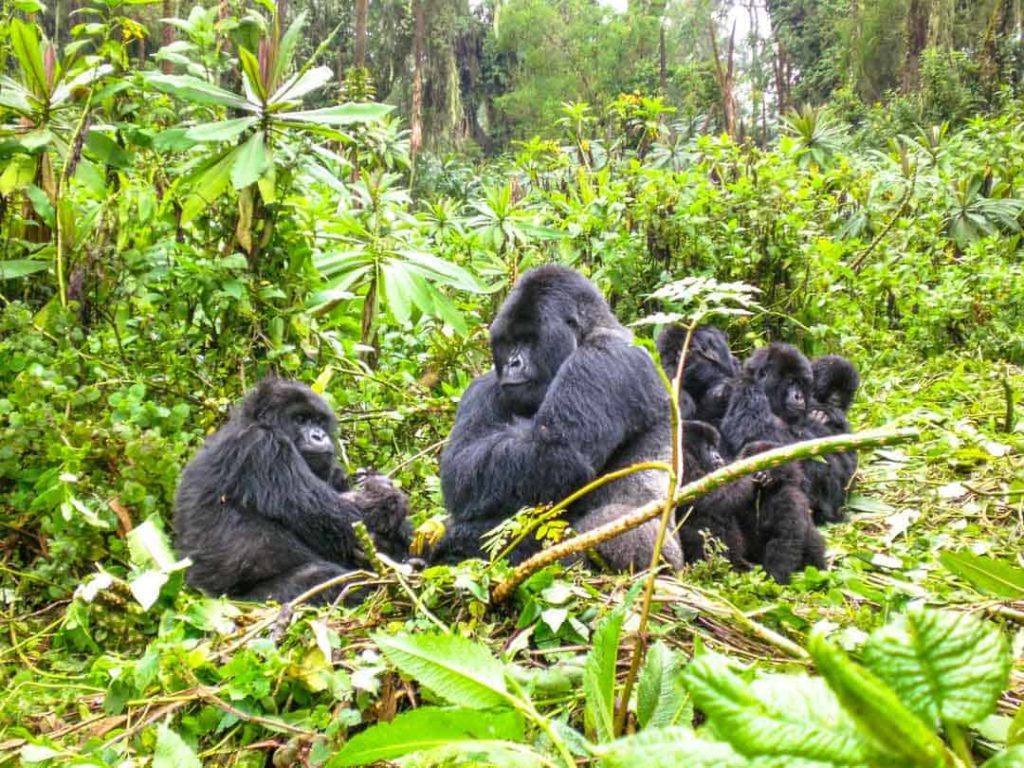 This 5 days Akagera and Volcanos safari allows you an insight to explore two outstanding national parks in Rwanda. The tour gives you chance to enjoy a rewarding game drive in Akagera national park situated in north eastern region of the Rwanda and an exclusively luxury gorilla and Golden Monkey trekking experience in volcanoes national park.
Tour Highlights
Day1: Transfer to Volcanoes National Park
Day 2: Mountain Gorilla Tracking
Day 3: Transfer to Kigali for city tour and Departure
Activity highlights
Mountain gorilla tracking
Golden monkey visit to Musanze Caves, Dian Fossey hike, Visit to twin lakes
Kigali city tour
Detailed itinerary
Day 1: Transfer from Kigali to Akagera National park
On this day, meet and greet with our company representative either at your hotel of residence or upon arrival at Kigali international airport. Set off for a 2 to 3 hours' drive to Akagera national park. Enjoying lunch enroute and proceed with the journey to park. upon arrival, check in at your book lodge and head out for a short game drive to explore the savannah park and the scenic beautiful blue skies, lakes as well as sight some wildlife in the park. Return to the lodge for dinner and an overnight stay.
Day 2: Akagera game drive and transfer to Volcanoes national park
Rise up early for a cup of coffee and later join your driver guide for a morning game drive searching for the predators and their preys such as the lions, hyenas, leopards, antelopes, zebras among others. The game drive in this savannah park exposes you to the beauty of the amazing lakes, colorful birdlife as well as the mesmerizing landscapes blessed with a diversity of natural wonders among others.
In Akagera national park, grab a chance to sight the African big fives such as the Rhinos, Lions, Elephants, leopards, Hippos living together in harmony with other amazing wildlife. The park is one the less visited protected area compared to Uganda, Kenya and Tanzania wildlife parks. Therefore, you may not encounter many safari vehicles which allows you a chance to have the best safari experience in this African jungle.
Later, after the unforgettable game drive experience, return to the lodge for lunch, check out and transfer to Volcanoes national park home to the endangered mountain gorillas plus other interesting primates.
Upon arrival in volcanoes national park, check in at your booked lodge and head out for an exciting village walk with your Mumwe safaris guide. Delight in an opportunity to encounter with the colorful, rustic local people in the park. Here you get a chance to learn more about their behavior, their traditional culture, and enjoy their hospitable welcome. The Rwandese people are friendly, humble, simple and blessed with a rich local lifestyle.
After the village walk experience, return to the lodge for dinner and overnight stay.
Day 3: Gorilla trekking experience and Ibylwacu Cultural encounter.
Wake up early for your morning breakfast and later transfer to the park headquarters for briefing about the gorilla trekking exercise. Here you are taught about the dos and don'ts while trekking, you are grouped in groups of 8 and assigned park ranger guides who take you through the trek. Later at exactly 8 transfer to the starting point and begin the trekking exercise. Gorilla trekking in volcanoes national park takes about 30 to 8 hours of the depending on the location of the mountain gorilla family.
After locating a gorilla family, you are allowed to spend only one hour with it while studying about their behavioral lifestyle patterns, their daily activities, taking photos and videos. After this lifetime dream adventure, return to the lodge for lunch and relaxation.
In the late afternoon head out for a visit to the Iby'iwacu cultural center in Kiningi. While here delight in the wonderful entertainment from the organized traditional dance performances and music from the natives. The traditional drama exhibits the fascinating culture of the local people in Rwanda and this puts a smile on your face thus adding on your gorilla tour experience in Rwanda.
After this amazing cultural encounter, return to the lodge for dinner and overnight stay.
Day 4: Golden Monkey Tracking and Musanze Caves visit
Delight in a delicious cup of coffee and head out to the park headquarters for the briefing session about the Golden monkey trekking exercise. Volcanoes national park is one of the incredible paradises where gold meets silver. Unlike the mountain gorillas, Golden monkeys in Volcanoes national park are easy to spot and they don't require a lot of movement.
under the guide of the park rangers, begin the tracking while searching for the energetic golden monkeys and after meeting them, ask the guide as many questions as you can, enjoy photography with the golden monkeys as you learn more about their lifestyle patterns in the jungle. After the thrilling experience return to the lodge for lunch and relaxation
Later in the afternoon, take a visit to the Musanze Caves. This exposes you to longest caves in the area about 2 kilometers thus giving you a chance to discover the long – lost homes of local people. Return to the Lodge for dinner and an overnight stay.
Day 5: Departure to Kigali.
Enjoy a delicious leisure breakfast, check out and depart back to Kigali. Your driver guide drops you at your hotel of residence in Kigali or directly at the airport to catch up with your scheduled flight back home.
End of the Tour.