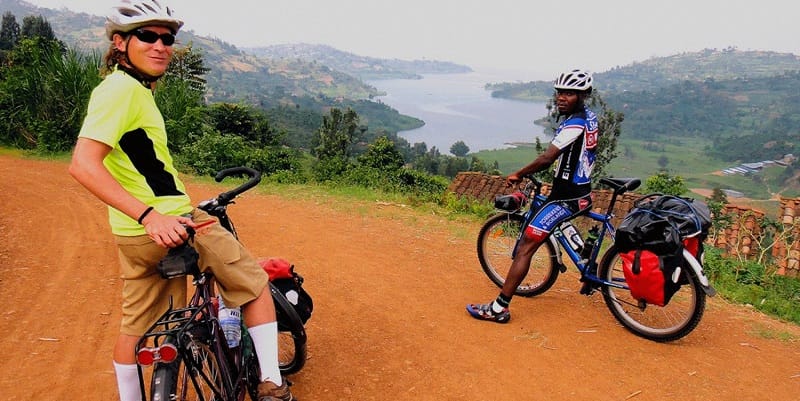 The Congo Nile Trail in Rwanda is an exciting connection of ancient dirt roads and tracks that was launched and opened in 2009 to expand tourism activities in Rwanda. It stretches along Lake Kivu, a rift valley lake that borders Rwanda on the western side and the DR Congo on the eastern border. It is a popular trail for cyclists and hikers that seek and enjoy facing challenging landscapes.
The 227km Congo Nile trail traverses through tea plantations, bamboo and rain forests. It is the one of the finest places for adventurers because of its numerous coffee-washing stations, tea plantations, the sandy and colorful beaches, valleys, beautiful waterfalls and different villages with locals excited at the visitors passing through their communities. The trail takes an average of 4-5 days to complete on a bike about 10 days if you are exploring the area on foot.
Summary of the 4 day Congo Nile Trail biking tour in Rwanda
Day 1: Kigali City tour and transfer to Kibuye
Day 2: Cycling from Kibuye to Kinunu village
Day 3: Biking from Kinunu to Gisenyi
Day 4: Ruboni hill to Gisenyi and return to Kigali
Detailed itinerary
Day 1: Kigali City tour and transfer to Kibuye
The company safari guide picks you up from your residence or hotel in Kigali after breakfast and we start with a city tour to Kigali Genocide Memorial for an insight of the 1994 Rwanda Genocide and later on visit a local market. Set off to Kibuye with lunch en route, an afternoon boat ride on Lake Kivu and check in at the lodge.
Dinner and overnight at Cormoran Hotel
Day 2: Cycling from Kibuye to Kinunu
This day starts with an early breakfast at the lodge. Check out with packed energy snacks and plenty of drinking water. Jump on your bike and get going via Lake Kivu where you enjoy the breathtaking views of the lake and proceed through several communities seeing how they go on with daily life. Further through tea plantations and undulating hills of this landlocked country. Check in at the lodge in the evening and relax.
Dinner and overnight at Kinunu Guest house
Day 3: Biking from Kinunu to Gisenyi
We get up and have breakfast, pack our lunch and some snacks and head off for yet another cycling tour around Lake Kivu. It involves visiting some fishing villages, interacting with the fishermen and watching how they do some of their activities. Visit hot springs and head to the accommodation near the fishing village.
Day 4: Rubona Hill via Gisenyi to Kigali
We ride to the top of Rubona hill on our last day of the safari. The route offers lovely views of the surrounding. As we come to the end of our biking tour, we also explore Gisenyi town on our bikes, then have lunch and later on embark on the return journey to Kigali.
End of the Congo Nile Biking tour
If you are looking for a fun-filled adventure to do on your next safari to Rwanda, add the Congo Nile trail biking safari to your itinerary list. For details of the trip and reservations, contact us through info@rwandacarrentalservices.com or call us on +256-700135510 or +256 414-699459 to speak to reservations team.