Rwanda is one of the major tourist destinations in Africa with numerous tourist attractions including genocide sites and memorial centers, the beautiful Kigali city, wonderful culture, gorgeous beaches and delicious cuisines. Your adventure in Rwanda will be the best if you have your trip planned with good transportation services to take you round the 'land of a thousand hills' and this will leave you with wonderful memories to tell back home.
Rwanda Car Rental Services takes great pride in organizing self drive and guided Rwanda safaris for all types of travelers and based on customer requests & reviews, we have listed the top 4 safari cars in Rwanda guaranteed to give you that safe, comfortable and money saving road trip.
Toyota Rav4
This is a commonly used vehicle by many tourists in Rwanda because of its comfort and friendly price of hire. A Rav4 is a four door 4×4 vehicle, stylish with an air conditioner, mp3 player, FM radio, enough cargo space in the rear that carries four people comfortably with driver inclusive. The Rav4 is comprehensively insured and can be hired for both self drive and with a driver.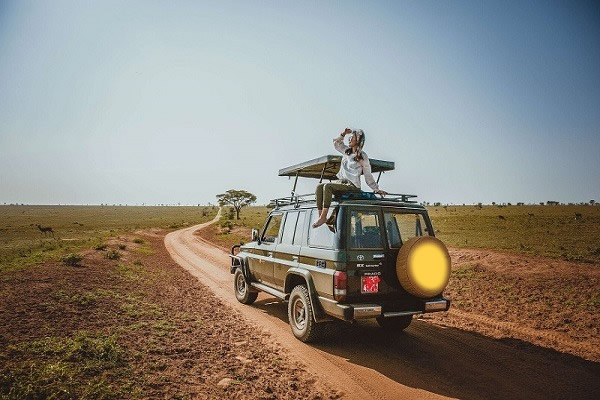 Land Cruiser
A land cruiser is a wonderful four wheel station wagon available for your trip in Rwanda. It carries up to a total of five people comfortably, driver inclusive and has enough leg room and a spacious cargo space in the rear. The land cruiser has got a catching exterior and a beautiful interior with comfortable adjustable seats, air conditioner and MP3 player that will make your trip worth enjoying.
Safari Land Cruiser 
This is also a 4×4 vehicle that carries a capacity of up to eight people comfortably with a well-equipped interior having comfortable seats, a fridge to keep your drinks cool, an air conditioner for good aeration and has a pop up roof that will enable you have a nice view and this makes a safari land cruiser the best car for trips in national parks. The safari land cruiser also has enough space for cargo in the rear and it is suitable for family or group trips usually hired with a driver. If you plan on doing a Rwanda safari adventure or camping as a family or group of 6 to 8, then the safari land cruiser will be perfect for you
Coaster Bus
The coaster bus is well known for group trips since it has a larger carrying capacity of up to 28 people and it is mainly used for sports trips, school tours and retreats. It has many windows through which you can view the outside environment along the way and also has an adequate space for cargo both in the ceiling and in the rear. A coaster bus is always hired with a driver and its interior has a television for you to watch your favorite programs or music during the journey, MP3 player and FM radio to play you music all the way and an air conditioner to improve aeration.
In case you are planning to safari Rwanda this season and would love to rent a car for self drive or with a driver, dont hesitate to contact us via info@rwandacarrentalservices.com  or directly call us at +256414699459 or +256700135510.