A wedding day creates an unforgettable experience in a couple's life so a lot of effort is usually put in preparation to see that everything goes on well right from the church requirements to decorations, bride and groom dressing, food and wedding cars. A lot of people have registered disappointments concerning wedding cars in Rwanda because of different reasons but do not let this happen to you too, here are the tips to note if hiring a wedding car in Rwanda this season.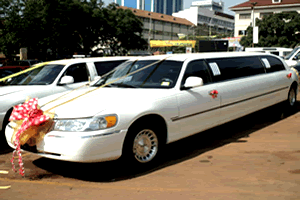 Use a trusted company
Make sure you involve a trusted company to hire your wedding car and not just any road side car rentals or individuals. Hire from a company that is reliable and having a permanent address such that in case of anything, you know where to go. Some couples think of borrowing wedding cars, well, it is one way of saving but do so only if you trust that the lender will not let you down.
Number of cars needed
You should know how many cars you will use for your day and make right bookings in time. This will greatly depend on the number of people on your entourage and whether you as a couple would like to sit separately from the maids and grooms men or can sit together with them. The seating capacity of the type of cars chosen will also determine the number of cars to use for example you can hire one limousine for all the entourage but one mercedes benz may not be enough. Make proper preparations such that you do not panic to ask for an additional car on the D day.
Make payments in time
Once you have concluded on what wedding cars to hire, confirm your bookings by making payment. Most companies will not avail your wedding cars if you have not fully cleared the payment so to avoid inconveniences or cancellations of the bookings, make full payment for the cars as early as possible latest two weeks prior your wedding.
Consider the location of your wedding and reception venue
This tip helps you to know which type of wedding car to hire because some cars are not reliable for very long distances. Still the location will determine the price to pay because the price while in the city is different from when the wedding or reception venue is in a remote area.
Consider your budget
Always make sure that you consider your budget while hiring wedding cars. It is so nice to go with the trend or enjoy luxurious cars for your wedding but it is also so crucial that you do not suffer the post wedding debts because of poor planning. It is always a right idea to enjoy within your means so do not exceed your budget for the sake of being on the nob after all there are more days for you to live after the wedding day.
For your wedding car hire bookings in Rwanda, contact us on email info@rwandacarrentalservices.com or call our head offices on +256700135510 to speak with the reservation team.