The magnificent Congo Nile trail is arguably the best path for hikers and mountain bikers in search of adventure in Rwanda . It stretches from Rubavu in the north of Lake Kivu, traversing scenic landscapes with dirt roads through the magnificent Nyungwe forest in the south to Rusizi.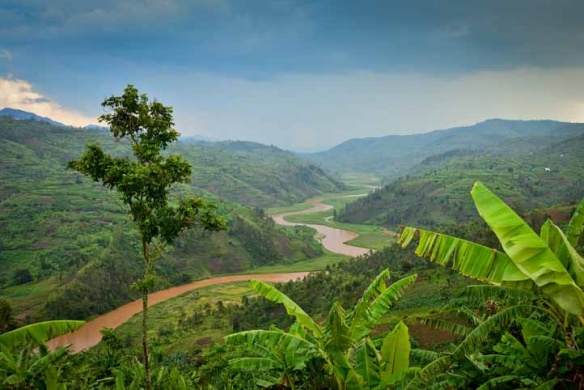 The 227km long trail is an extension of natural dirt roads plus single trails gently curving through a thriving jungle and flourishing farmlands. Bikers ride through banana and coffee plantations, fishing communities and meet several women carrying loads of foodstuffs especially bananas, fruits like avocadoes and firewood taking them to markets for sale. The Congo trail of Rwanda weaves through numerous hills and mountains and on the right are a number of peninsulas with terraced hillsides that give the lake a shapeless coastline.
From the lake, it is a delight ascending into the cool breeze around the rich green tea plantations with various tea pickers. The trail further ascends via a divide which separates the Congo Rivers and the Nile. This is how the trail gets its name. The long rugged dirt roads later on connect to the thinner route that gets into Nyungwe forest national park. Here, you are likely to come across orchid, butterflies and you'll surely see various forest birds. Nyungwe is home to chimps and many other primates which the tourists have a great chance to spot or at least hear their calls.
The Congo Nile trail was founded in 2011, but later on in 2014, the latter half of the trail became a paved thoroughfare connecting Kibuye and Kamambe. You can return to the start by stopping at Kibuye and taking a ferry. If you still want to explore more of Lake Kivu using the Congo trail, connect to Kamambe in the south of the lake through tea plantations and Nyungwe forest national park. The Congo trail tour is an impressive trip that involves interacting with locals including the cheerful children, riding through scenic areas, hiking along stunning plantations and sitting primates and other wildlife in Nyungwe.
Regardless of how primitive the dirt roads beside Lake Kivu are, the place is safe and secure. Rwanda is today one of the countries in Africa to be in and feel safest. The people are friendly, weather favorable and is filled with interesting things to see and discover. A guided biking tour along the Congo Nile trail is the best way to explore the Nile , villages and also get a chance to interact with the locals as well. For more details about the biking tour , contact us via info@rwandacarrentalservices.com or make a call on +256-700315510 to speak with our reservations personnel.
Bryan Hulk