It is paramount to note that the Pearl of Africa is one of the fantastic safari destinations in Africa that is pretty much interesting throughout the year, her tourism sites are open to all travelers year round. However, When should I visit uganda?, when to go to Uganda? or what is the best time to go safaris in Uganda? are one of the frequently asked questions by many travelers planning an awesome safari to Uganda, on this note, here in this article, we take the pleasure to present you the best time to go on safari in Uganda so you plan better and save some money along the way;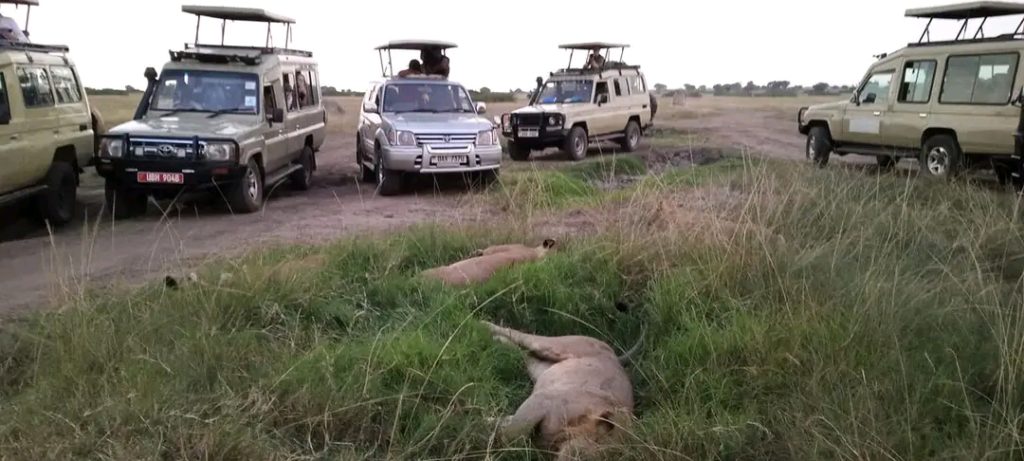 The dry season
The two dry season in uganda favors a lot of tourism activities including wildlife viewing, hiking safaris, primate experience and so many more. This occurs between the months of December to February-( short dry season), between the months of June to August-(long dry season).
During this period, vegetation in the Savannah reserves is little and a lot of wildlife diversities gather at the permanent water spot areas to quench off their thirsty thus giving tourists a glimpse experience as they gaze at the stunning animals while on a game drive.
At the same time, gorilla trekking and chimpanzee tracking experience are extremely interesting and easy, due to the fact that the roads leading to the primate sites are dry and easy to navigate through and the trekking trail are dry as well thus making it easy to trek compared to wet season that features wet, muddy and grounds.
Prior to this, sky is so clear, little or no rain is expected to interract the safari activities, the clear sky also favors outstanding photography on your road trip.
However, expect hiked prices during the dry season due to the fact that, this time of the year is considered to be the peak season when a lot of tourists are flocking the country to enjoy Uganda safaris, we thus advise travelers interested in gorilla or chimpanzee trekking to book their permits in advance at 4-6 months prior to dates of travel, because permits normally get sold out due to the high demand.
Expect to experience more sunshine and hot temperatures, so don't to forget to carry your skin repellent to protect your skin from the direct sun rays heat.
The wet season
The Wet season in Uganda can be ideal time to go safari in Uganda, it is characterized with heavy rains, wet, muddy and slippery grounds in the safari destinations. It occurs in two phases, around the months of October to November and between March to June- the long wet season, though much rains are expected during this season, it does not rain the entire day, for resistance, it can rain in the morning hours and by afternoon it is hot and shinning thus giving you chance to proceed with your safari activities.
During the rainy season, most of the roads leading to the safari sites are very bad, most cars often get stuck on the way and forest trails get slippery thus making trekking a bit challenging.
Due to plenty of rainfall, most the Savannah reserves are greener and you as well get high chances of seeing many stunning wildlife diversities on a game drive including many new born animals in the safari parks.
There is plenty of food for both animals and birds since many plants are flowering thus giving bird lovers to delight in an amazing birding adventure, you will as well get chance to sight the chimpanzee community so easily which is not the case with the dry season where they keep leaping from tree branch to another as they search for food.
The wet season features discounted rates on accommodation and also tour operators do offer discounted rates on safari packages thus this can be perfect for budget travelers.
You also don't need to worry about crowds in the safari destinations since there are few tourists coming in to enjoy Uganda safaris, which is one of the reasons why the wet season is considered an off season/ low season with few travelers flocking the country.
In safari destinations like Bwindi impenetrable forest park,kibale forest and Mgahinga, don't forget to carry your strong waterproof rain jackets to save you in case it rains while trekking plus the strong gum boots to ease movement in the wet forest trails.
We argue travelers to consider renting a good 4×4 safari vehicle especially in the wet season when many roads become slippery and quite challenging to navigate through.
In synopsis, any time can be perfect time to go on safari in Uganda but we recommend the dry season as the best time to visit Uganda since it comes with a lot of added advantages to enhance an extraordinary experience.  Don't forget to use local tour operator like us for an exceptional safari adventure here in the Pearl of Africa, and for further more information about best time for Uganda safaris or how to book a safari in Uganda, please don't hesitate to get in touch with our travel experts, simply send an inquiry on info@mumwesafarisuganda.com or call us on  +256-700135510 / +256 414-699459 to speak to reservation team.