We stand proudly and pronounce that our Rwanda is a remarkable country in the whole of East Africa and Africa at large. Rwanda is famous for its silverback gorillas in the Volcanoes national park that have captured the world's imagination since Diane Fossey the American Zoologist came to make a study about the mountain gorilla families in the late 1970s. Gorilla tracking and habituation in Rwanda is not all that our beautiful country has to offer, Rwanda is a very special part in the African continent offering a discerning and adventurous glimpse of nature's wonderful miracles through fun packed Rwanda safaris that showcase the fantastic landscapes, the magnificence of our wildlife, and the warmth of the Rwandan people are once in a lifetime experience.
Tourism in Rwanda today is linked with her neighboring countries like Uganda, Tanzania, Burundi, DRC and Tanzania. This unison merged the today celebrated East African Visa which has made traveling simpler for many visitors in East Africa and has as well strengthened partnership and brotherhood among these countries.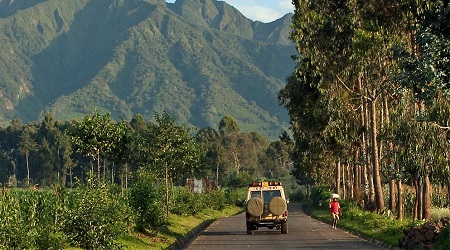 Whether you are on self drive trip to Rwanda, or a guided tour, discover the Eden she promises to be through meeting her unraveled biodiversity of dramatic mountains and volcanoes, some of the oldest and most precious rain forests on earth, glittering lakes and rivers.
Rwanda has 3 national parks that are well spread across the country and each featuring the ultimate wildlife experiences and primate tracking. Visit Akagera National Park for the most interesting wildlife/ game viewing drives to see the lions, giraffes, buffaloes, warthogs, and so many more. Enjoy camping trips to Rwanda at Akagera National Park, a Gorilla tracking experience at the Volcanoes National Park, and Chimpanzee tracking at Nyungwe forest National Park. Enjoy a thrilling and hair-rising canopy walk at the Nyungwe forest, be at the same height as the tallest trees of the park and watch the birds fly at close range. This is one of the most sought adventure activities in Rwanda, the canopy walk!
You cannot talk about Rwanda and fail to say a word about Lake Kivu, this is the largest freshwater body in Rwanda and the 6th Largest in the whole world. The lake is surrounded by wood forests and beautiful white sand beaches which are so favorable for honeymoon packages in Rwanda and family holidays in Rwanda as well. Be part of a memorable water adventure at lake Kivu, with numerous water sports activities, like boat cruises and rides, swimming, beach volleyball, beach soccer, sunbathing, entertainment and so many others.
Visit Butare the intellectual and cultural pulse of Rwanda, this is the best place to enjoy the cultural values and norms of the Rwandese. Many of the shops and markets here exhibit African fabric commonly mixed with designs from the Congolese, handcrafts and so many more. Many tourist centers here showcase traditional and cultural performances including the most famous Intore dance. Are you thinking of a wedding event in Rwanda, the Intore dance is the best cultural entertainment piece you can have, it will keep your day memorable.
There are more aspects about Rwanda, like the Genocide memorial sites, yes we are somehow over the damage of the genocide era but we take our visitors to see some of these places because they mean so much to us and the loved ones that we lost. Shake off the sorrow of the genocide sites by visiting Kigali city at night, we call it the city that never sleeps. You have a wide selection of clubs, bars, cinemas, churches and more lively and vibrant spots that will surely bring out the nocturnal part of you.
Planning to visit Rwanda for safari, business or leisure holidays, we at Rwanda Car Rental Services will be more than delighted to offer you our services. You can check out our available rental cars in Rwanda and get back to us to book one with driver or go on a Rwanda self drive adventure. To get in touch, simply send us an email at info@rwandacarrentalservices.com or call us now on +256-700135510 to speak with our reservations team.