Rwanda is not only renown tourist destination but has over the years a business hub for investors, researchers, sales and marketing entrepreneurs. The political stability combined with good transportation, communication and accommodation has made it possible for business travelers to conduct their duties without any inconvenience. Kigali city is safe and locations are easily accessible with good roads and directions.
Business men always require that private transportation to and from the conference meeting venue , a car that will get them to the meeting comfortably but most importantly in time. There are a variety of cars for hire in Rwanda but not are suitable for business travel, saloon cars, mini vans and buses are the top three car categories ideal for such occasions.
We present to you the 3 top ways a business traveler should use to get around Kigali city or any other place in Rwanda.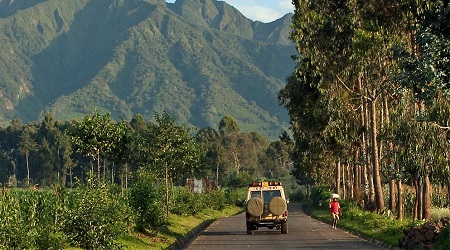 Car Rental Company – The best way of getting around Rwanda is by using private means , you can decide to rent a car in Rwanda from a trusted and reliable car agency or tour company. These companies have fleet of owned and out-sourced vehicles, so you can't fail to get what you are searching for. You have to be careful when choosing an agency to offer you the service, compare prices, terms & conditions plus past customer reviews to get an insight of who you are booking with. You could choose to drive your self or hire a driver as well to escort you.
Private Taxi Cab – There are hundred of company owned taxi cabs on the streets of Kigali ready to drive you to any place during specific hours. You can book a cab online, on phone or visit the cab park or station and reserve one in person. These cab drivers are professional, well groomed with good knowledge about most of places around the city and beyond. Unlike a private Rwanda rental car , the taxi cabs will charge you by the hour and distance covered making them very untrustworthy especially during traffic jam.
Private Motor Cycle – The evolution of booking transportation online has lead to a new and faster means of getting where you are going. Transport apps like SafeBoda & Uber have paved way for safer transportation of people on a motor cycle, one of the riskiest ways of getting to business meeting especially during rush hour. You can just make an order through the app indicating pick-up and drop-off locations and then the closest rider to your location will be assigned to you; simple as that.
Traveling to Rwanda for business venture and would love to get where you are going safely, comfortably and on time, the above 3 means will be the best choice. Rwanda Car Rental Services offers a wide range of rental cars ideal for business trips , just contact us now through info@rwandacarrentalservices.com or call us now on +256-700135510 to speak with the reservations team.
Bula