A 4×4 Land cruiser is one of the best ultimate station wagon vehicles suitable for a safari in Rwanda. Our land cruiser is extended to accommodate about 8 passengers plus one driver. You can decide to go with the original Land cruiser Prado or book a customized safari land cruiser with a pop-up roof and go explore Rwanda diverse attractions . Book with us a Toyota Land cruiser for a self drive and explore the fascinating tourist attractions in Kigali City. Here at Rwanda Car Rental Services take great pride in offering the most affordable and discounted Land cruisers in Kigali to all types of travelers.  Our car fleet menu for the Land cruisers gives you a wide range of options allowing you to make a perfect choice of your Toyota Land cruiser your prefer for a particular road trip.
Our 4×4 Land cruiser features enough luggage space, air conditioning, pop-up roof and sliding windows to allow you clear views of the mesmerizing Kigali city. Enjoy a guided road trip in Kigali with an in-sighted driver guide when you rent a safari land cruiser that is a perfect suit for your family Adventure in Rwanda. All our Land cruiser vehicles come with an added benefit of comprehensive insurance, a stand-by emergency car in case of any breakdown, unlimited Mileage among others.
Here are some of the best land cruisers for hire in Rwanda guaranteed to give you that safe and comfortable road trip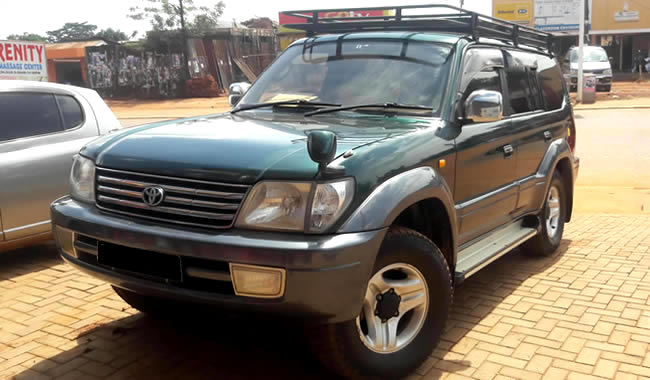 Land cruiser V8
Besides the other land cruiser models, the V8 is extremely exceptional featuring a mesmerizing exterior, an extended front which gives it a unique and outstanding fashion out-competing the rest of the other land cruiser models. The V8 land cruiser also features a comfortable interior consisting of Royal like seats, an entertainment system and an air conditioner. It is the best ideal for a convoy escorting the bride and groom on their wedding Kigali thus enjoy a smooth relaxing transportation driving to the church and from the reception.
The V8 gives you an outstanding unique wedding due to the color added on your amazing function. We hire out a V8 land cruiser in various colors such as; in white, sliver and black at an affordable rate on your wedding function in the Kigali City.
8-seater land cruiser
The 8 seater Toyota Landcruiser is a perfect ideal vehicle that can be customized for dreamlife safari in the Kigali. The Toyota land cruiser car is very reliable and strong enough to managed the rugged rough terrain. It features a power engine and it is a four drive car with the ability to with stand all road conditions. Hire a Toyota land cruiser with an insight driver to take around the interesting Kigali tourist destinations like Kigali genocide. The car features enough space for luggage and it gives an opportunity to enjoy a one day excursion road trip in Akagera national park that is home to stunning wildlife in Rwanda including the African big five.
To catch up with our best deals for renting a Landcruiser in Kigali, contact our experienced reservation team by sending an inquiry at info@rwandacarrentalservices.com or directly call the reservations team on +256-700135510 or Tel +256-414699459 and we assist you organize a self driver safari in Kigali in a land cruiser car.