Are you planning for a self drive trip in Rwanda or plan to work and stay for long time on business vacation, all these require you to have a way out in terms of your transportation. Since you are moving to or visiting a foreign country, you should take time and learn more about the traffic rules and regulations in Rwanda before you take up your decision of a self drive trip. There are so many things to consider if you are planning to drive in Rwanda, and among these may include minimum driving age, traffic flow, Traffic sign and documentation required as well as insurance
Below are some of the main points to consider when you decide to self drive in Rwanda this season.
#1 : Flow of Traffic
Every country has a system that controls the flow of traffic depending on the number of roads available and population of natives as well. In Rwanda, driving is on the right hand side, this is one of the regulations every driver from a foreign country should consider. All motorcyclists and car drivers drive on the right hand and that is how the traffic flows, you should keep in mind to change direction of driving while driving in Rwanda. When you find a vehicle in the traffic circles please give way because they have right of way already. Knowing the traffic flow is very crucial when you self drive Rwanda, flow with those ahead of you are doing with caution and consider those coming behind you.
#2: Driving license & Insurance
Some of the countries have regulations on the minimum and maximum age for driving. In Rwanda, the minimum age for driving is 18yrs and elderly driver are allowed up to 75 yrs. International driving permits are accepted as long as they are valid for the period you be on yourself drive trip in Rwanda. Many car rental companies only offer comprehensive insurance which covers vehicle and property only, therefore to all visitors on self drive in Rwanda should purchase life insurance before leaving their home countries. The international driving permit is accepted to be in use for only one year and thereafter you must acquire the Rwandese driving permit.
#3: Types of Cars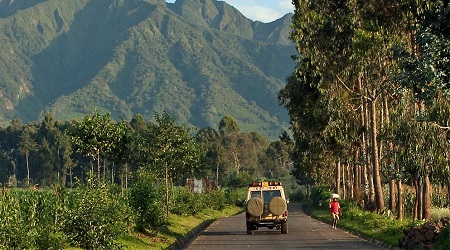 The type of car you are looking at renting on self drive in Rwanda also matters and the destination for your trip as well. If you're driving license only favors class B cars then make sure to hire cars under that category, and it you have a license above B to C and more, then you can take the pride in driving you choice of cars. The Traffic officer can stop you anywhere at any time, but be at ease because it is under law to check any vehicle if need be. Make sure your luggage has nothing that will make you at tough point is the security in Rwanda. There are a number of vehicles you can hire in Rwanda, ranging from saloon cars, large SUVs, station wagons, Mini vans, coaster bus and so many more
#4: Traffic signs
Traffic signs around the whole round are quite similar, what you have been respecting in your home country will apply as well here, but keep note on some of the signs that can change at different points. Note that many people in Rwanda especially outside Kigali city walk on foot to longer distance. Be cautious about children playing close to road highways since many of them are not paved. Respect traffic signs, they will save you any road accident or hassle with the traffic police
Main points to note while driving in Rwanda
Driving is on the right hand side
Driving while on telephone is prohibited
Drunken drivers are imprisoned for 24hrs and case can be take on if driver has caused any damage on the road
Make sure to have the valid driving permit
Check your car to be in right mechanical condition
Dirty vehicles are not allowed on the road, try to keep your car clean
If you get any trouble on the road, contact your car rental agency immediately or reach out to the police at free toll number 112
To hire a car in Rwanda for self drive trip, simply send us an inquiry at info@rwandacarrentalservices.com or call us at 0700135510 to speak with the reservations team.