Gorilla trekking is arguably the most captivating tourist activity in Africa. It is the highlight for most visits done in Rwanda and seeing mountain gorillas is the main reason why a big percentage of people visit Rwanda to Volcanoes national park where these giant primates live. Mountain gorillas as their name implies live in forests on mountains at elevations of 8,000-13,000ft and they only survive in their natural habitats. Their thick fur helps them to comfortably live in these cold areas which sometimes get extremely frozen. There are around 1,060 mountain gorillas remaining in the world and due to this, they are considered as "endangered primates". Scientifically referred to as Gorilla beringei beringei, mountain gorillas are a subspecies of the eastern gorillas found only in Bwindi Impenetrable national park and on the slopes of the Virunga ranges-Volcanoes National park in Rwanda, Virunga National Park in the Democratic Republic of Congo and Mgahinga Gorilla National Park in Uganda.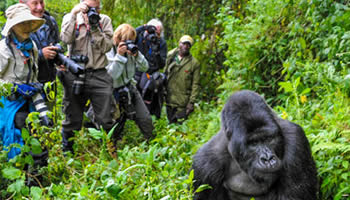 Mountain gorillas share around 98% DNA with humans and this exposes them to human illnesses more so the respiratory diseases. They live in groups of about 10 or more members known as families or troops headed by a dominant male. Volcanoes national park has 10 habituated gorilla families.
In this article, Mumwe Globaal safaris presents you important information about gorilla trekking in Rwanda including where to find mountain gorillas in Rwanda, when to visit Rwanda for gorilla trekking, how to acquire a gorilla permit, the gorilla trekking experience, where to stay, the packing list for your trekking tour and the gorilla trekking post COVID-19 rules and regulations.
Where to find mountain gorillas in Rwanda
As earlier said, mountain gorillas can only be seen in the Democratic republic of Congo, Rwanda and Uganda. If you want to trek them in Rwanda, then you will go to Volcanoes national park in the northern part of the country. The road distance between Kigali and Volcanoes national park is about 109km. It takes about 3 hours driving on its beautiful roads to the park.
When to visit Rwanda for gorilla trekking
Gorilla trekking in Rwanda is regarded as a year-round activity though the best time for this adventure is during the dry season; the short dry season from mid-December to early February and the long dry season from June to September. The two periods offer the easiest trekking conditions because there is little or no rain and the trails are easily accessible. In addition, there is a low malaria risk.
It is very possible to visit Rwanda and see the gorillas any other time of the year, but be aware that activities can be more strenuous on rainy days as paths are muddy and slippery. Some adventurers prefer this kind of experience. However, one requires to be fit if they are going to trek the gorillas during such periods. An advantage of travelling out of the optimum times (dry season) is that they enjoy the discounted rates of accommodation.
How to acquire a gorilla permit to trek gorillas in Rwanda
Booking for your gorilla trekking permit is easy when you use a recognized tour operator in Rwanda or Uganda. Mumwe Global safaris is an expert and credible company in organizing gorilla tours in Rwanda. We purchase your gorilla permit from Rwanda Development Board (RDB), send a scanned copy of the permit, book accommodation near the park and offer you the total cost of the safari including transportation in a 4X4 safari vehicle.
Cost of a gorilla permit in Rwanda
Rwanda gorilla permit costs US$ 1,500 per person. With the 10 gorilla families in the park, RDB issues 8 permits for 8 people to visit each group daily totaling up to 80 permits available each day.
Gorilla trekking experience
All those going for gorilla trekking rise up early and get to the park headquarters by 8:00am for briefing and allocation of which troop to search for. Follow your guide into the forest and look out for gorillas, once they are spotted, you have an hour to stay with and observe them. It is the most thrilling moment of the trip. You may come across other residents of the forest especially monkeys and birds. The activity can take 30 minutes or run up to midday, depending on the location of the gorillas.
Where to stay
Ruzizi Tented camp
Gorillas Nest lodge
Kinigi Guesthouse
Mountain Gorilla View lodge
Packing list for your gorilla trekking tour in Rwanda
Hiking boots
Light weight rain jacket
Warm clothing to wear in the evenings at the lodge
Long pants and long-sleeved t-shirts
Stockings, gardening gloves and a cape
Backpack
Binoculars
Camera
Water bottle
Energy giving snacks
Insect repellant
Post covid-19 rules and regulations when going for a gorilla tour in Volcanoes national park
As of June 2020 when Rwanda's national parks re-opened for guests, a number of new measures were put in place to ensure a safe environment and protect all visitors, staff and wildlife from the spread of COVID-19;
All domestic tourists visiting Volcanoes National Park are expected to test negative 48 hours prior to visiting the park.
All international tourists are expected to test negative for COVID-19 within 72 hours prior to their arrival in Rwanda. A second Covid19 test is made upon arrival at Kigali international airport.
Tests for both domestic tourist and international tourists should be presented at Kinigi reception center prior to visiting the park
Ensure the correct use of masks at all times
Wash your hands at hand stations set up at all entry points
Carry hand sanitizers while visiting the park
You are required to maintain a distance of at least 10 meters from gorillas at all times
Primate lovers that want to trek gorillas in Rwanda can plan their trip perfectly using the above information. If you just prefer to rent a car in Rwanda and drive yourself to the park, we can also organize that for you at affordable rates For any inquiries, send us an email to info@rwandacarrentalservices.com or call our travel consultation team on +256-700135510 / +256 414-699459.