Rwanda's capital and largest city – Kigali has been the country's main economic, cultural and transport hub ever since independence. Once ravaged by one of the most brutal genocides in the world, the city's economy is bustling with the help of business investors and tourism.
Tourism largely contributes to the GDP of Rwanda with the latest partnership with Arsenal bringing in more tourists from United Kingdom over the past months. The mountain gorillas in the Virunga ranges are the main attractions while the chimpanzees and other primates in Nyungwe forest plus the various wildlife species in Akagera park are also very popular destinations.
The national parks may have the spotlight when it comes to wildlife & adventure but if you are looking to learn about Rwanda's history, culture and social life, then you should tour Kigali city with a driver or self drive a rental car.
We have organized trips around Kigali for numerous travelers and below are some of the most requested and visited places in town.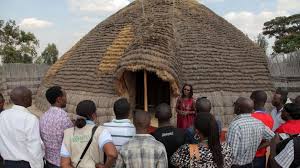 Genocide Memorial Site – Learn about the history The horrific 1994 genocide events that took place in Kigali. Thousands of Tutsi were killed by the Hutu during this merciless massacre and you can get all the information in words, video and a visit to the mass graves where you will see lots of skulls. Learn abot what caused the genocide and how it was handled as you also get chance to watch survivor testimonies.
Kandt House Musuem – Regarded as the oldest building in Rwanda, it was dedicated to the infamous Dr Richard Kandt who embarked on an exploration adventure way back in 1897 in search of the source of the Nile river. Also known as The Natural History Museum, it showcases Rwanda rich nature.
Mamba Club – This is by far the most popular entertainment place in Kigali city where yo can go to chill with friends, loved ones and family. It features a Bar, Restaurant, swimming pool, volleyball courts plus a 6-lane bowling alley; the only one around town. You can visit the Mamba club after a long road trip or weekend getaway.
Inema Arts Center – This is the best platform for upcoming and professional local artists to showcase there talent. Art workshops, Yoga classes plus events like fashion shows, jazz bands and local dance performances are also available on the list of things done at the art museum. Visit the center and check out some of the best traditional and contemporary artistic expressions on paper, cloth and molds.
Other popular sites to visit when tour in Kigali city include Kigali city tower (the city's skyscraper), Kigali Public Library, KLab, Ishyo Art Center among others. To book a Kigali city tour online , you can contact us through the short form or simply send an email to info@rwandacarrentalservices.com or call us now on +256-700135510 to speak with the reservations team.