Dubbed the Land of a thousand hills, Rwanda is a country with strong cultural history, spectacular landscapes and a variety of wildlife species most notably the mountain gorillas that roam the Virunga ranges. Tourists from across the globe visit Rwanda specifically to get chance to watch the endangered gorillas in the wild. You need to book a gorilla permit with a travel company  or Rwanda Development Board to get access to Volcanoes park, a permit in Rwanda costs US$ 1500 per person and accommodation can range between US$ 200 to 1000 per person per night.
Volcanoes national park is situated 113km north west of Kigali city with a road trip lasting up to 2 hours using private means. A typical Rwanda gorilla safari adventure normally lasts 2 to 3 days with a road trip taking you through local communities where you will enjoy sites of landscapes, locals going about their business among other up-country scenery.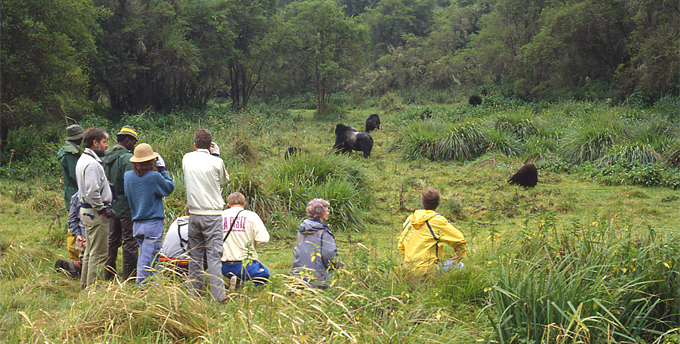 Depending on time you left Kigali city, you will arrive at the park by noon, check in to your room at the safari lodge/ camp you booked. Have lunch, relax or take a walk around the community as you await next day's gorilla trekking adventure. Dinner and overnight stay at the safari lodge or camp.
Prepare for the adventure of a lifetime on day 2, enjoy your early morning breakfast and pack you lunch for the day. The guide will then transfer you to the park headquarters at Kinigi where you will get briefed about the do's and don'ts when tracking mountain gorillas in Volcanoes park. Searching for the gorillas is no easy task usually lasting about 3 to 4 hours but once you encounter these gentle apes, you will be in awe. Enjoy an hour in their midst taking pictures and observing them in their natural habitats.
After the encounter, trek to a place far from the gorillas and enjoy your packed lunch in the bush before continuing trek to the location where your drivers will be waiting to take you back to the lodge. The group leader will hand out gorilla trekking certificates as approval that you once tracked the incredible gorillas in Rwanda.
Check out of the lodge/camp and prepare for transfer back to Kigali city arriving in the evening and ending the gorilla safari in Volcano park. We at Rwanda Car Rental Services can organize a gorilla tour for all types and sizes of travelers catering for accommodation, gorilla permits as well transportation. You can decide to hire a car and drive yourself to the park or go for the much safer guided trip.
To book a gorilla safari in Rwanda today, simply get in touch with us via this short contact form or send an email to info@rwandacarrentalservices.com or call us now on +256-700135510 to speak with the reservations team.