Group trips are so interesting as they come along with greater experiences of learning public ways of associating with each other, sharing exciting moments of the journey, having fun, and exchanging ideas hence yielding boredom free the trip rather than if you are alone. This is made more reliable if you have a rental car to use because here, fun and enjoyment of the trip is already on as you can eat, drink, inquire, relax, laugh and jazz freely with each other during the journey which may not be possible if using public means. These groups can be of family members, friends, church, sports, workers or associations and below are the best rental cars for your group trips in Rwanda.
Super Custom Van 
A super custom is one of the best vans for group safaris in Rwanda because of its different inbuilt facilities like the car air conditioner and adjustable windows that keep fresh air inside the car. It has a carrying capacity of 8 people with enough leg room and a slide roof that will enable you to get some sunshine without having to get out of the car. The car amenities that will make your group trip more enjoyable include comfortable and adjustable car seats, bottle holders alongside every seat, a car radio plus an MP3 player, freezer box to keep your drinks cold and enough space for your cargo in the car rear. It is used for city tours in Kigali town, to and fro transfers to the main airport and other family tours.
Safari Minivan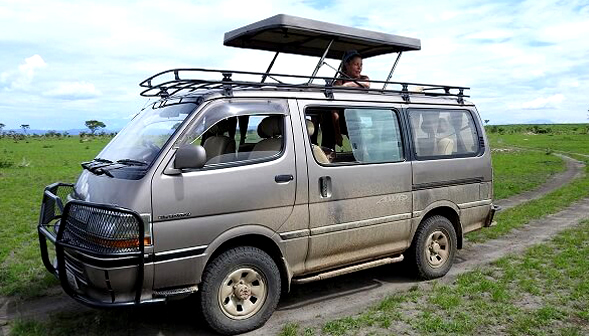 A minivan is a mid-sized safari car well known for Rwanda group trips due to its roof's capacity to pop up and allow you to have a clear view of the environment especially wildlife in the game parks. It has a carrying capacity of 8 people with comfortable and adjustable seats that allow enough leg room so you can sit comfortably throughout the journey with your cargo properly packed in the spacious rear. A minivan has an air conditioner and adjustable windows for allow fresh air in and improve aeration, a radio and MP3 player are also present to spice up your trip with the music you love.
Coaster Bus 
This has a larger carrying capacity of 20 to 30 people so it is advised for large group trips like sports trips, school tours and retreats. It has many windows through which you can view the outside environment along the way and also has an adequate space for cargo both in the ceiling and in the rear. A coaster bus is equipped with an air conditioner that you can adjust to desired level for fresh air, a television, MP3 player and FM radio all to make your journey more enjoyable and comfortable.
In case you are planning any group safari to Rwanda, contact us via info@rwandacarrentalservices.com or directly call our head offices at +256-414699459 or +256700135510 for any inquiries or bookings of your group van at an affordable price all according to your choice.